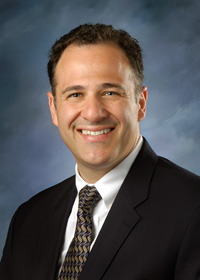 Dr. Palumbo is an accomplished, nationally recognized Sports Medicine physician and surgeon, specializing in sports-related injuries of the knee, shoulder, ankle, elbow, and hip.
Dr. Palumbo is a second-opinion physician for the NFL Players Association, as well as the Head Team Physician for the Lehigh Valley IronPigs baseball team, a Triple-A affiliate of the Philadelphia Phillies. In his capacity as Head Team Physician, he attends Spring Training in Florida, where he treats major-league and minor-league baseball players.
Dr. Palumbo is also one of the original participating physicians of the Gridiron Greats Assistance Fund (GGAF), which is a non-profit, 501(c) (3) corporation established to provide financial assistance and coordinate social services to dire-need retired NFL players. He is currently one of the key principals involved with the GGAF, and has helped the organization form a partnership with OAA.
Additionally, Dr. Palumbo is President and Founder of OAA's Sports Medicine Institute, a non-profit organization which is dedicated to providing medical education to sports medicine professionals.
Before joining OAA, Dr. Palumbo practiced for eight years in Orlando, Florida, where he had the unique experience of treating all levels of athletes and performing artists. There he served as orthopaedic consultant for the world famous Cirque de Soleil, The Orlando Ballet, Sea World entertainers, and Disney World acrobats and dancers, as well as team physician for the U.S. Womens National Soccer team, which he continues today.
Dr. Palumbo is a firm believer in the value of lifelong education. In March 2008, he received his board certification and was awarded the 2007 Sub-Specialty Certification in Sports Medicine. He has served on the Sports Medicine Evaluation Committee of the American Academy of Orthopaedic Surgeons, and is a reviewer for the American Journal of Sports Medicine.
As part of Dr. Palumbos ongoing desire to teach, he participates in training residents in orthopaedic medicine and family practice.
Finally, Dr. Palumbo is a frequently sought-after speaker at national meetings, and has published numerous articles in professional journals.