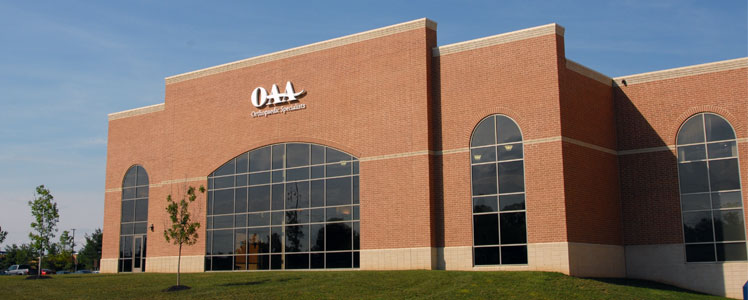 Dr. Robert Palumbo has been a practicing Pennsylvania orthopedic surgeon for OAA Orthopaedic Specialists since 2002, and continues to utilize their top rate facilities and latest technologies to provide patients with state-of-the-art clinical care for all surgical and non-surgical orthopaedic treatments.
OAA Orthopaedic Specialists, a sports injury clinic located in Allentown, Pennsylvania, has been dedicated to orthopaedic care and research since its inauguration over 40 years ago. OAA Orthopaedic Specialists utilizes the collective experience of their physicians, surgeons, and highly trained team of supporting specialists to provide a unique, multi-disciplinary approach to health care at every phase of recovery. This collaborative effort, combined with the state of the art equipment within the sports injury clinic, allows OAA to provide comprehensive care for all types of musculoskeletal conditions. Dr. Robert Palumbo is one of their 25 sports physicians and surgeons who are devoted exclusively to the musculoskeletal care of individuals suffering from complications related to:
Foot and Ankle
General Orthopaedics
Hand and Upper Extremities
Joint Replacements
Rheumatology
Spine and Scoliosis
Pain Management
Sports Medicine
Work Injuries
Chiropractic Medicine
And More
Beyond recovery, OAA is at the forefront of furthering the advancement of sports medicine through education. Within the organization, Dr. Rob Palumbo founded the Sports Medicine Institute Foundation, a non-profit powered by sports physicians with a progressive focus on the research and continued education of this budding medical discipline. The resources contributed by Dr. Palumbo and his collaborators with the Sports Medicine Institute Foundation are not only useful for other sports physicians, but also to younger generations interested in learning about sports medicine through alliances with high learning institutions. OAA believes it's their "duty to give back to our patients, staff, schools, community, profession and each other wherever possible."
Dr. Rob Palumbo is a Pennsylvania orthopedic surgeon and sports doctor who has helped OAA Orthopaedic Specialists establish itself as the preferred choice of the Lehigh Valley for comprehensive orthopaedic care. Learn more about OAA Orthopaedic Specialists by visiting their website, or get on the road to your recovery by requesting an appointment with Dr. Rob Palumbo today.